What the Bible says about Christmas
The Birthday of The King: What the Bible Says about Christmas
The Greatest Gift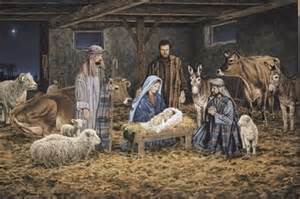 God is a giver, not a taker. Throughout Scripture, we find evidence of His great generosity towards His creation. From the beginning of time as we know it when He called forth Creation — when He gave existence to things that had never before existed — we can see the true heart of God. He literally gave of Himself to make each one of us. "The Lord God formed man from the dust of the ground and breathed into his nostrils the breath of life, and man became a living being" (Genesis 2:7).
The very nature of God is to give, to create, and to bless His creation. Unfortunately, many of us are so self-absorbed and greedy for gain that we do not even have the eyes to see the countless gifts that God has already worked into our lives. Yet, God wants us to be givers too. He created us to be like Him – to pour ourselves into other people, and to reciprocate His love for us. God created us with the power to be able to give back to Him! When I really stop and think about this, it truly amazes me – that God – the sum of ALL good things, who holds ALL power and authority, would humble Himself in this way.
He didn't make himself entirely independent of His creation, or set Himself up as a mere casual observer of humankind, though He certainly had the power to do so. Instead, He allowed Himself to love us to the point where our returned love would be a blessing to Him. Each one of us, little and insignificant as we are, has been given the profound gift of the ability to bring joy to the heart of God. It is extremely humbling to me when I stop and consider that God has thus set the laws of His creation into motion. That the One who is Love personified would actually be blessed by the love that I could offer Him. This is the greatest gift of all, and it is given to every human being who has ever lived or will live–the ability to give of ourselves to God and to each other. Without this gift, life would be very empty indeed.
#GIVETHANKS
GiveThemJesus
#Outreach: That the world may know
#Prayer Focus: Pray for Our Prodigals
#Praise the Lord
Please follow my blog Guam Christian Blog
Please follow my blog Guam views Blog
Podcast: https://anchor.fm/bruce-dinsman
Bruce's Facebook https://www.facebook.com/bruce.dinsman
Featured book: https://www.amazon.com/Daily-Service-4-Bruce-Dinsman-ebook/dp/B07W64BCD1
Twitter: @bad671
Instagram: https://www.instagram.com/dinsmanbruce/
Younow: https://www.younow.com/BruceDinsman
Pinterest: https://www.pinterest.com/bdinsman/pin
#Parler #ParlerUS @pacislappraisal