What the Bible says about Christmas
The Birthday of The King: What the Bible Says about Christmas
The Greatest Gift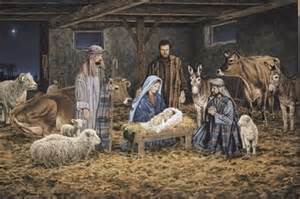 Bible Says Christmas Is Time of Blessing
Who will fill these missing places in the body of Christ? Even now as we go about our daily lives, all creation groans in frustration, waiting for the sons of God to be revealed (Romans 8:19-22). There is so much work to be done, and so few are willing to do it. John 4:35-36 says, "…. I tell you, open your eyes and look at the fields! They are ripe for harvest. Even now the reaper draws his wages, even now he harvests the crop for eternal life, so that the sower and the reaper may be glad together." God intends both the sower and the reaper to share the same joy of the harvest. There should be no competition among God's faithful servants, no jostling each other for the "prime" positions, no envy or personal ambition. If we truly love the Lord, our only goal should be to bless Him, serve Him, and advance His kingdom.
As I was praying, I saw a vision of the Lord, manifested in the person of someone I love very much. In the vision, I saw this person laying in bed, exhausted after a hard day's work. The Lord said to me "What do you think she would like right now? How could you bless her?" I could instantly see that a cup of hot tea and a home-cooked meal would be just as much, if not more of a blessing to her than whatever big, distant work I could conjure up to show her my love. Immediately, I could see what God was trying to show me. We are created like Him. If we appreciate a "small" gift given in love more than the fanfare of a "big" gift given in insincerity, how much more does God?
As the vision continued, I could see Jesus sitting alone by a road with people running up and down it. They were all very busy. Some were stopping and chatting with Him for a moment here and there, but as I overheard their conversations, they were mostly to inform Jesus of what they wanted from Him, or what they were going to do for Him. One man, in particular, ran up to him. "Oh, Jesus, I'm so excited," he cried. "I'm off to tell the world all about you!" Quickly he ran off before Jesus could say anything at all. My heart broke, as I saw Him there, sitting by Himself. Yes, He wanted to bless those people with things beyond their wildest imagination. Yes, He wanted them to find fulfillment in serving Him. But what He really wanted most of all was for those people to come and sit with Him and talk awhile…to hold His hand and look deep into His eyes…to share their dreams and sorrows, and to hear His joys and sorrows…to let Him simply give His love to them. In all their mad rush to give and get, they missed the greatest treasure of all, sitting right in front of them.
#GIVETHANKS
GiveThemJesus
#Outreach: That the world may know
#Prayer Focus: Pray for Our Prodigals
#Praise the Lord
Please follow my blog Guam Christian Blog
Please follow my blog Guam views Blog
Podcast: https://anchor.fm/bruce-dinsman
Bruce's Facebook https://www.facebook.com/bruce.dinsman
Featured book: https://www.amazon.com/Daily-Service-4-Bruce-Dinsman-ebook/dp/B07W64BCD1
Twitter: @bad671
Instagram: https://www.instagram.com/dinsmanbruce/
Younow: https://www.younow.com/BruceDinsman
Pinterest: https://www.pinterest.com/bdinsman/pin
#Parler #ParlerUS @pacislappraisal