What the Bible says about Christmas
The Birthday of The King: What the Bible Says about Christmas
The Greatest Gift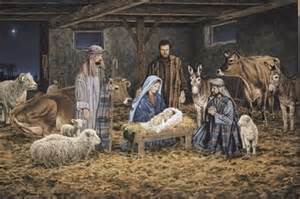 Bible Says Christmas Is Time of Blessing
So much of what we do for God is with mixed motives for our own personal fulfillment. We all want to have a purpose and reason for living. We all hope that if we were to die tomorrow, we would leave a legacy of some kind behind us. Yet for most of us, this becomes the end to which we live. Sadly, when we make anything other than God our reason for living, that thing will become an idol in our lives. Even if it is a good thing, like a ministry or a mate, it can still never fulfill us because it wasn't designed to. It simply can't! It doesn't even have the ability to fulfill. In fact, those idols will begin to work against us, and cause us suffer spiritual barrenness. They will put us on a treadmill until we become broken-hearted and exhausted trying to keep it all alive. On the other hand, if we receive them simply as the gifts they are and continue to love God first in our lives, we will be given the ability to enjoy them, for this too is a gift. Ecclesiastes. 3:13 says, "That everyone may…find satisfaction in all his toil–this is the gift of God." The key is simply to "seek first his kingdom and his righteousness and all these other things will be given to you as well" (Matthew 6:33).
When all is said and done, only those things which were done "as unto the Lord" will count for anything. In God's eyes, there are no "big" or "small" things done for His Kingdom. All He asks of us is to obey Him in what He tells us to do. Let us follow through and obey Him, whether His commands seem great or small. After all, it is Jesus we are talking about here! The One who left His home in glory to bleed and die a humiliating and painful death for each one of us – the One who made himself vulnerable to us, by giving us the ability to bless him or hurt him. As we obey Him, we bring such joy to His heart! Then His joy, which is a strength to the spirit of man, becomes our joy as well. God is not impressed, nor is He blessed by the best of our works done in self. He is only impressed by the attitude of our hearts.
As we look around the world this holiday season, let us stop and consider Who's birthday we are celebrating. Let us not forget to offer sincere thanks to our precious, precious Lord for His many blessings in our lives. And let us show our thankfulness by our actions! Let us offer the same mercy that God has given us to those around us. Let us press deeper into the heart of God, that we may have something to offer this world besides the same old cycle of greed, pride and rebellion. Let us not be ashamed to become the servant of all, showing our love for God by laying down our rights, our plans, our time and money for the sake of others. Let us demonstrate our love to God by giving Him the very things we are afraid to lay down, trusting that He has the best plan for our lives and would never use or abuse us. Let us truly fulfill the greatest commandment, which is to "Love the Lord our God with all our mind, soul, and strength; and to love our neighbor as ourself" (Luke 10:27). Each of us is destined to make a profound difference in the world. Let us not fall short of our destinies! Let us give the greatest Christmas gift that we have been afforded to give; one that we can give year-round – to bless the heart of God!
#GIVETHANKS
GiveThemJesus
#Outreach: That the world may know
#Prayer Focus: Pray for Our Prodigals
#Praise the Lord
Please follow my blog Guam Christian Blog
Please follow my blog Guam views Blog
Podcast: https://anchor.fm/bruce-dinsman
Bruce's Facebook https://www.facebook.com/bruce.dinsman
Featured book: https://www.amazon.com/Daily-Service-4-Bruce-Dinsman-ebook/dp/B07W64BCD1
Twitter: @bad671
Instagram: https://www.instagram.com/dinsmanbruce/
Younow: https://www.younow.com/BruceDinsman
Pinterest: https://www.pinterest.com/bdinsman/pin
#Parler #ParlerUS @pacislappraisal